Whilst on a visit to Belleek Pottery Visitor Centre we invite you to relax after the tour in our Belleek Tea Room which is situated just to the right as you enter the Visitor Centre. The Belleek Tea Room is open in line with the Visitor Centre and the opening times are shown here and seats approximately 90 guests at any one time.
Our Tea Room is self service and includes a hot and cold food counter where you can choose from the many delights on offer and take directly to your table.
In the mornings we offer hot teas, including herbal such as green tea as well as bean to cup fresh coffee, cappuchinos and latte. To accompany these refreshments we have home made fresh scones consisting of plain, cherry or raisin.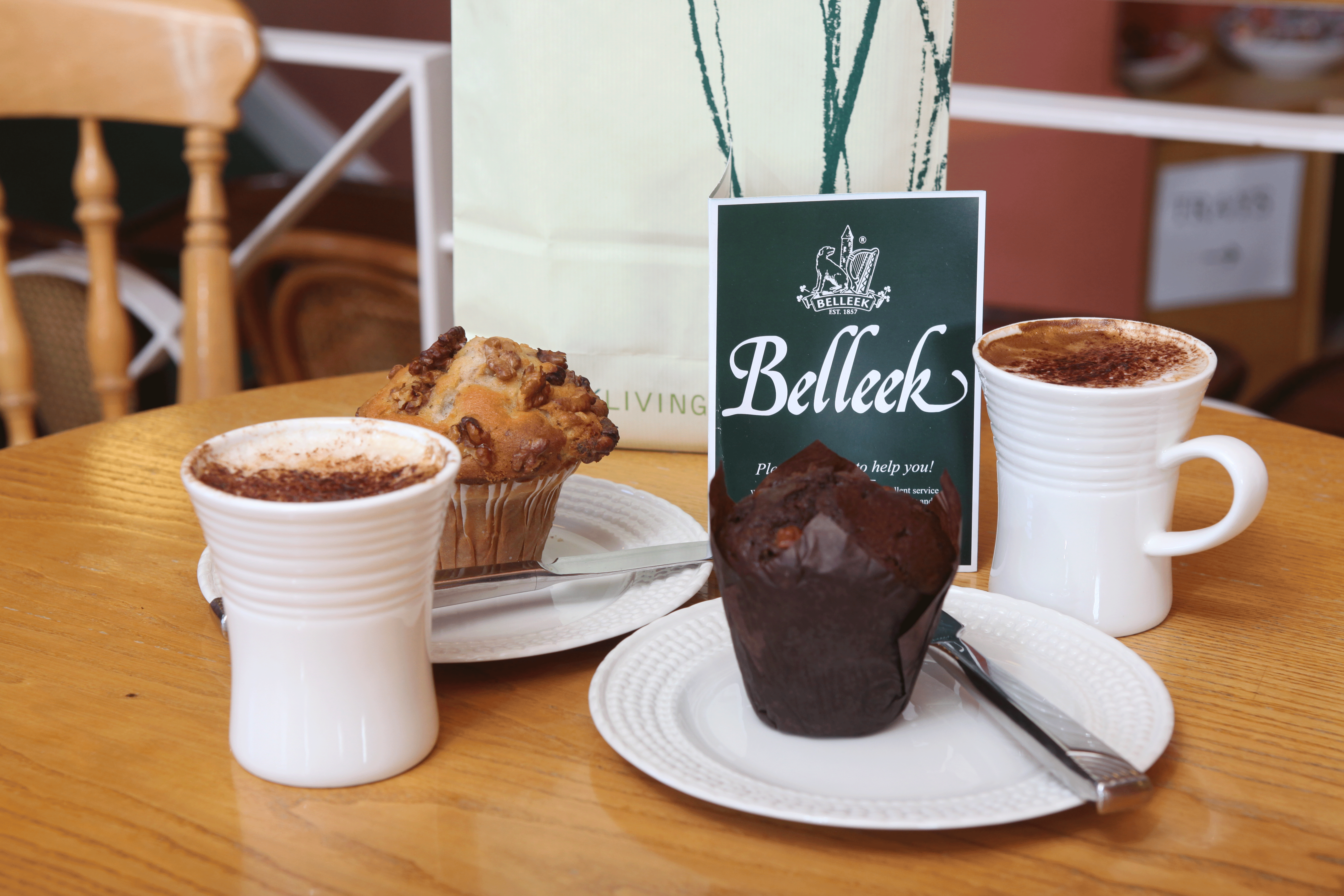 For lunch time we offer hot lunches from April 1st through to October 31st. Lunch is served between the hours of 12:15 hrs to 14:00 hrs Monday to Saturday; hot lunches are not available on Sundays at this time. Typical hot lunches include beef or mince pie, chicken curry, lasagne and pasta bake to name but a few. These are served with a range of fresh vegetables. Please note, though, that there would be a choice of two or three main dishes each day and these will vary day to day. Please look out for the blackboards as you enter the Tea Room as there you will see the menu of the day.
From November 1st through to March 31st we offer freshly made sandwiches, just pick between white or brown bread and your varied choice of fillings and leave it up to our staff then to make up your choice!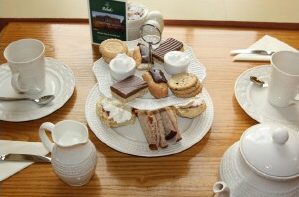 If you visit is in late afternoon no need to worry! Our Tea Room will still be open serving the usual refreshments and a wide range of delightful desserts some of which can be topped off with cream should you desire.. Also we have on offer our signature "Tea for Two" which is normally served on the upper floor level so that you can take in the spectacular views of the River Erne.
And,of course, it goes without saying that all of the food and drinks consumed in the Tea Room will be served on Belleek tableware. And finally, if the tables are available, make your way to the upper level of seating because from here you have the most beautiful view outside which takes in our Rose Isle Garden and of course the serene travels of the River Erne as it heads out to the Atlantic Ocean!
Below are typical prices of some of the foods that we have on offer. Please note that these are guide prices and can change at any time.
. Teas including herbal £2.10
. Freshly ground coffee £2.70
. Cappuchino £3.10
. Scone with jam & cream £2.00
. Sandwich selection £4.10
. Soup of the Day £4.10
. Hot Lunches £10.00
. Selection of Desserts £4.25
. Tea for Two £25.00